Sa 15.12.018 Te besaré antes de que me bloquees
14:00 / Tres/Cero/Tres Club, Bogotá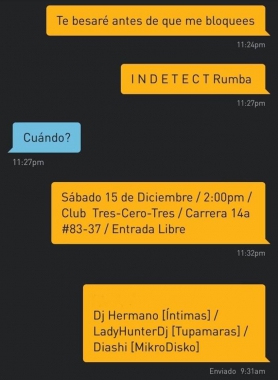 to celebrate "undetect" is reason enough just to dance to electronic music all together in the afternoon sun! no matter if we are pos or not, under therapy or not, tested or not, on prep or not, on condoms or not, lgbtiq or not – this is a party to show us taking care of each other and not forget to have fun! big fun! we gonna dance you before you dance us!

the concept "undetect" (that someone hiv-positive is not infectious when she or he is under effective therapy) is published since ten years (summer 2008). not everyone knows about: UNDETECTABLE means UNINFECTIOUS (U=U). we need to promote this message widespread in our communities and scenes. UNDETECT must be made VISIBLE (and we can't do this alone!)

love lazers has produced an information "viral load: undetectable (in colombia)" and is releasing this text online (www.lovelazers.org/co/vih-carga-viral-indetectable) and as a printed flyer. thank you to everyone who helped to make this possible. welcome this info with a proper rumba and invite everyone for it! come dance with us!

VAMOS A RUMBA!!! "indetectables" es razón suficiente para bailar jusntxs. No importa si eres o no poz, si estás en tratamiento o no, si ya te hiciste la prueba o no, si estás en PrEP o no, si usas condones o no, si eres LGBTIQ o no. Esta es una fiesta para cuidarnos y divertirnos entre nosotrxs.

El concepto de "indetectable" (que alguien que viva con VIH no puede infectar a otrxs porque está bajo un tratamiento efectivo) ha sido publicado desde hace más de diez años (Declaración de Suiza, 2008). Pero pocos saben que significa: INDETECTABLE significa INTRANSMISIBLE (I=I). Necesitamos que corra esta información dentro de nuestras comunidades y escenas. INDETECTABLE debe ser VISIBLE (pero no podemos hacer esto solos). "Carga Viral: Indetectable, es publicado por Love Lazers (en Colombia)", en linea (www.lovelazers.org/co/vih-carga-viral-indetectable) y como un flyer impreso. Queremos agradecer a todos los que ayudaron a hacer esto posible y estamos felices de darle la bienvenida a esta publicación con una fiesta a su nivel.

VAMOS A RUMBEAR !!!!!!
DJS:
Dj Hermano [Intimas]
Lady Hunter [House of Tupamaras]
Diashi [MikroDisko]

Entrada Gratuita Tres/Cero/Tres Carrera 14a #83-37 / Donación Voluntaria